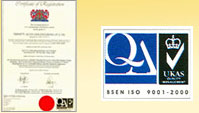 Stabilizer Bushes
Stabilizer Bushes are the most apprehended functional mechanical sections, which stay underneath the vehicles. Arranged on the structure of the vehicles, these are specifically engineered to decrease the levels of road noise and absorb bumps and cracks of the roads. Capable to proffer a soft and smooth ride, these also assist in offering the protection to vehicle's body from rolling. Settled on the undercarriage of the vehicles, these eliminate a lot of trouble with body roll, when vehicle takes a turn. Provided durable Stabilizer Bushes work as the anti-roll bars and aid in reducing the body roll of a transport in the duration of fast cornering or extra road irregularities.

Key Points:

1) Make reduction of body lean and tune the handling balance.
2) Cut down the sideways tilting of all vehicles.
3) Incorporated with strut suspension and active systems.
4) Independent of the spring proportion in the upright direction.

"We are mainly dealing in Bulk Quantity Order."