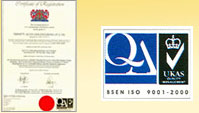 Metal Bonded Bushes
We deal in durable Metal Bonded Bushes, accessible with reduced levels of vibration and noise. Demanding less lubrication, these bushes are used in double wishbone suspension machines, anti-roll bars, gear sticks, shock absorber mountings, fastening, skateboards and various others. These are particularly used for the engines, which are inclined to torsional quivering of the shafts. Provided products are extremely flexible to use and come with simplex installation. These heavy duty mounts make less noise and vibration. Engineered with moulding and extruding techniques, offered Metal Bonded Bushes ensure safe operation and installation. The products provide finer vibration control during the procedures of cranking and switching off the engine.

Key Points:

1) Isolate vibration, reduce the transmission to a part or supportive structure.
2) Can work as the spring with their own natural frequency, which partially depends on the in-elasticity of the products.
3) Tear & abrasion resistance, provided with enhanced durability.
4) Incorporated with various mechanical properties, suitable for industrial utilization.

"We are mainly dealing in Bulk Quantity Order."