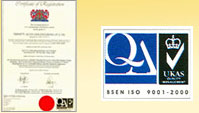 Silent Block Bushes
We deal in durable Automotive Silent Block Bushes, which stand as the most indispensable components of automotive vehicle. Made from optimal quality materials, these come with robust design as well as strapping construction. Offered bushes are utilized to monitor the load bearing trouble in oscillating or vibrating systems, railway carriages, automotive car suspensions, trucks etc. The product are featured with concentric steel arms with rubber firmly secured between them. These are configured to make axial, torsional and radial loads. The rubbers are administered between the space of the double sleeves to fill out the void and further processed at a invariant pressure and temperature. Offered Automotive Silent Block Bushes are then prestressed to provide maximal dynamic strength and strength.

Application & Usages:

1) Utilized to figure out the load bearing problem in oscillating and vibrating systems.
2) Employed in linkage systems in automotive car intermissions, tractors, trucks, railway carriages, trailers, etc.
3) Agriculture dumpers as well as machines.
4) Used in automobiles, capable of taking assorted kinds of load intensity.

"We are mainly dealing in Bulk Quantity Order."