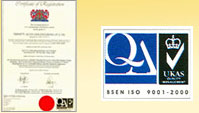 O Mountings
Commonly referred as durable rubber O mounts, these O Mountings are used as reliable mounting medium for various industrial equipments that generate noise and vibration while running. These mounting accessories are used for compressor, air conditioner, automotive radiator and electric motor. Main body of these mountings is made of superior grade carbon steel which is covered by cylinder shaped rubber by using bolts and nuts. Performance of these mountings depends on factors like their static deflection rate, shock absorption capacity, threading pattern of bolts and nuts. Known for their versatile nature, these O Mountings are preferred for their minimal shear stiffness level, durable quality, long working life, simple installation process and application of standard grade raw materials. We offer these in different diameter based options.

Features:

1) Precisely designed holes of these mountings are used to connect these with engines of machinery via nuts and bolts.
2) Advanced design of these mountings improves their shock absorption capacity.
3) Metal part of these mountings is made of carbon steel.
4) Nitrile, silicon or SBR rubber made cylindrical part.
"We are mainly dealing in Bulk Quantity Order."