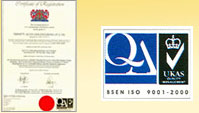 Rubber Mountings
Offered durable Rubber Mountings are resourceful to amend the performance of vehicles as well as several other machines, wherein they are applicable. These capably help in decreasing the levels of deflection and vibration pace. Supplied with oil, grease and water proof constructions, these come with prolonged functional life and unique tensile strength. The products have excellent hardness level and are bestowed with ozone resistance properties. Resistant to oils, chemicals and gasoline, these products are highly appreciated for their functional efficiency and sturdy designs. These cost-efficient Industrial Rubber Mountings are particularly engineered for dampening the shock and vibration.

Key Points:

1) Offer good electrical conductivity, incorporate ozone resistance properties.
2) Superior solutions for sealing utilization, best compression set, abrasion resistance.
3) Resistance to water, abrasion, heat and gas permeability.
4) Suited selections for extreme temperature applications.

"We are mainly dealing in Bulk Quantity Order."